DR's adaptive renewal of Aquinas Hall has created a future-focused science hub within the heritage-listed All Hallows' School campus. The refurbishment of the 1960s, 5-storey building also provides a contemporary tuckshop and café at ground level. The project was prioritised after the completion of a master plan for the school, also led by DR. Aquinas Hall overlooks The Terrace, the school's green heart. This heritage-listed green space was redesigned several years ago by Wilson Architects. DR's subsequent work at Aquinas Hall completes the revitalisation of this important part of the campus.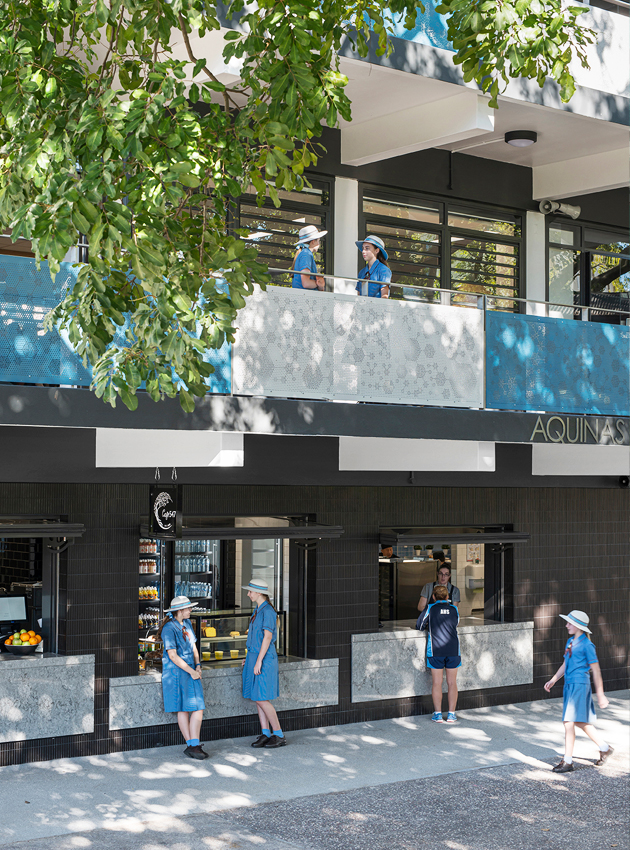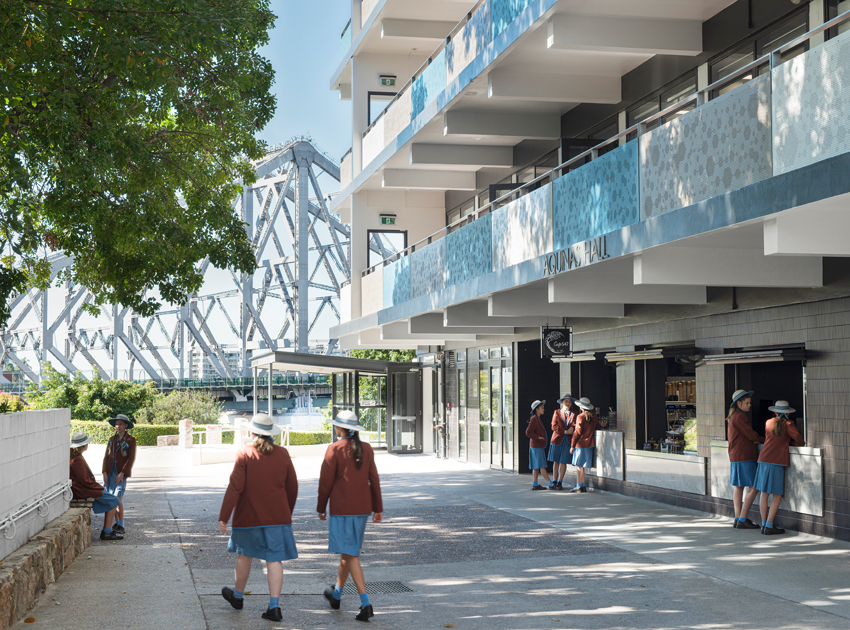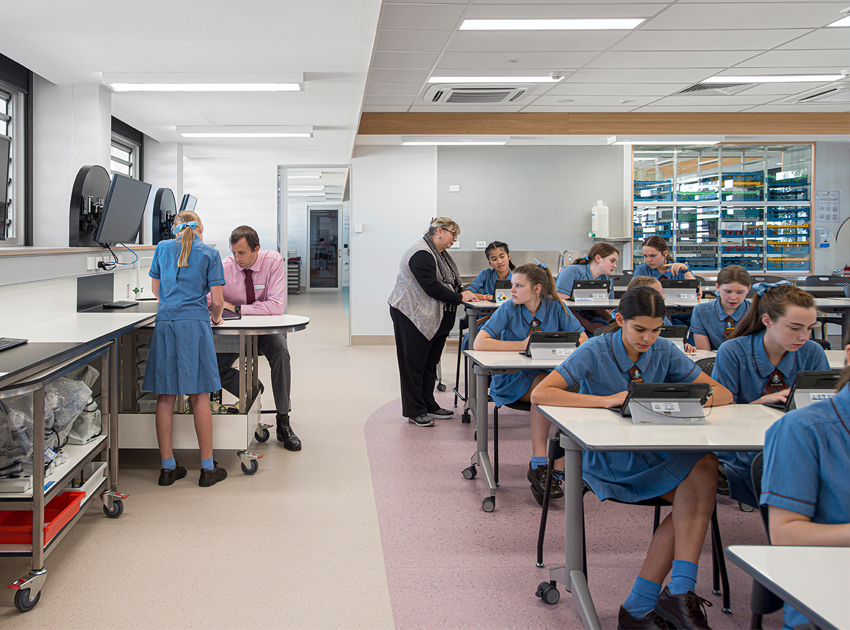 The renewal of Aquinas Hall's existing science labs reflects the latest approaches to teaching and learning. DR worked closely with the teaching and technical staff to create laboratories that would support flexible and active learning. The refurbished labs include movable desks and configurable activity benches, enabling a range of learning activities including experiments and group discussions. The flexibility also allows the labs to fulfil a second function as 'home rooms'. Technology has been embedded to enhance student experience and the rooms offer the option of natural ventilation.
The school's brief invited a fresh and sophisticated material palette. The labs feature different coloured vinyl floor inlays and complementary toned chairs to differentiate the rooms and stimulate the senses. Cabinetry is thoughtfully detailed and provides practical storage in these highly serviced spaces. The original balustrade on the building's upper storeys was no longer compliant and was replaced with permeable laser-cut screens, custom designed with a graphic pattern of atoms and particles.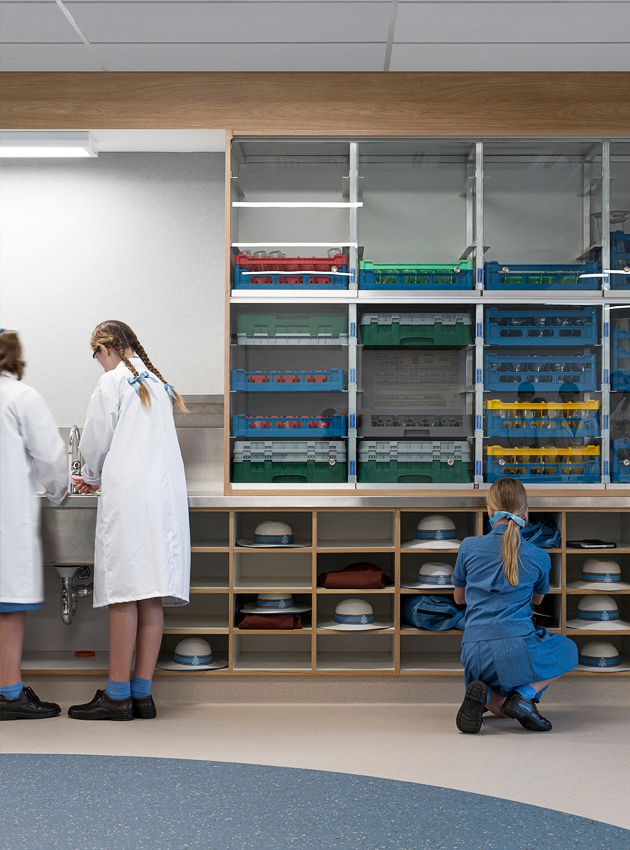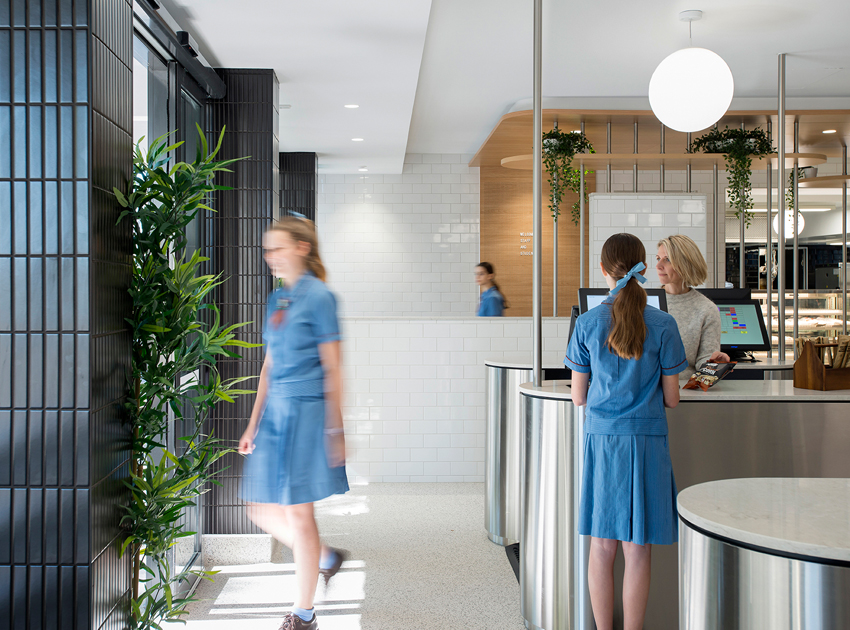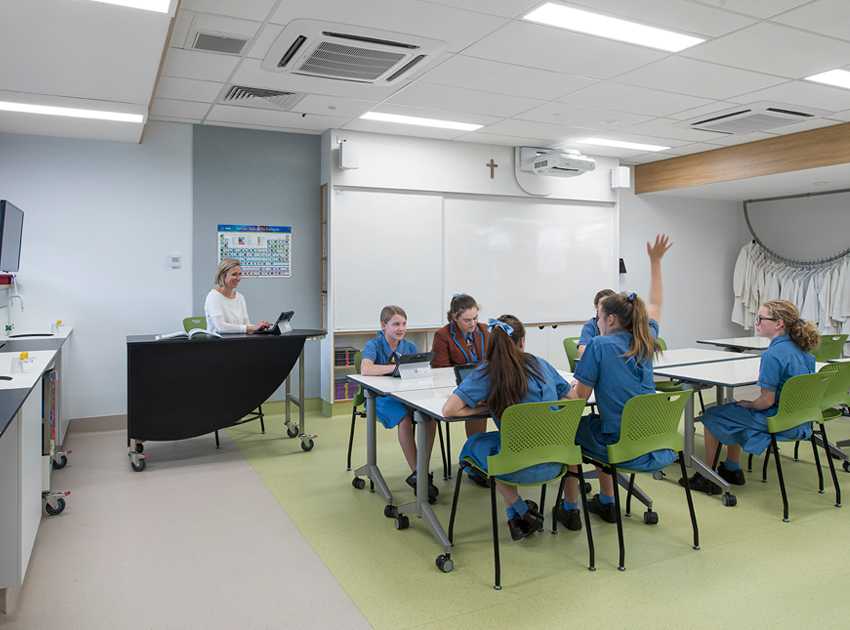 A refurbished tuckshop, state-of-the-art commercial kitchen and café, serving quality coffee, are located on the ground floor. The bright, airy tuckshop offers an uplifting, food retail experience for staff and students. These spaces have transformed this part of the campus, creating a relaxed and shaded meeting place for friends and teachers.
Client

All Hallows' School

Year

2019

Photography

Mindi Cooke