Deicke Richards worked closely with us to manage the challenges of redeveloping an existing site – overcoming complexities to create a community that over 150 residents love to live in. Aveo Carindale is about living well, in the heart of it all. Deicke Richards' design empowers our residents to engage in as much or as little as they like, then retreat and relax within the privacy of their generous and contemporary apartments. The design and functionality of their spaces will allow us to flex with the requirements of the community as it evolves with each stage of the master plan.
– Senior Development Manager Siobhan Greathead
A loosely woven series of social spaces overlooking parkland defines this retirement community in Brisbane's east.
Deicke Richards designed the first stage of Aveo Carindale's redevelopment to enable residents to age in neighbourhood – and live independently while connected to care.
The 97 independent living units across two buildings are a mix of studio, one, two and three-bedroom apartments, with a range of types catering to a diverse group. All apartments offer private outdoor space.
Catering for up to 500 residents and visitors, the lifestyle centre offers abundant natural light and space with a verdant outlook – and a library / business centre, dining and lounging spaces, outdoor swimming pool and bar. Bespoke timber screens and planters can be reconfigured to manage scale and intimacy.
Passive environmental performance is optimised; the space is light-filled and warm in the mornings, then shaded and gentle in the afternoons. Supporting service spaces are arranged and sleeved along the building's western edge; these include consultation rooms, a cinema, salon, multipurpose space and boardroom.
Establishing a 'front door' to the development master planned by our team, this project expands wellness, community and links to landscape via higher-density vertical buildings.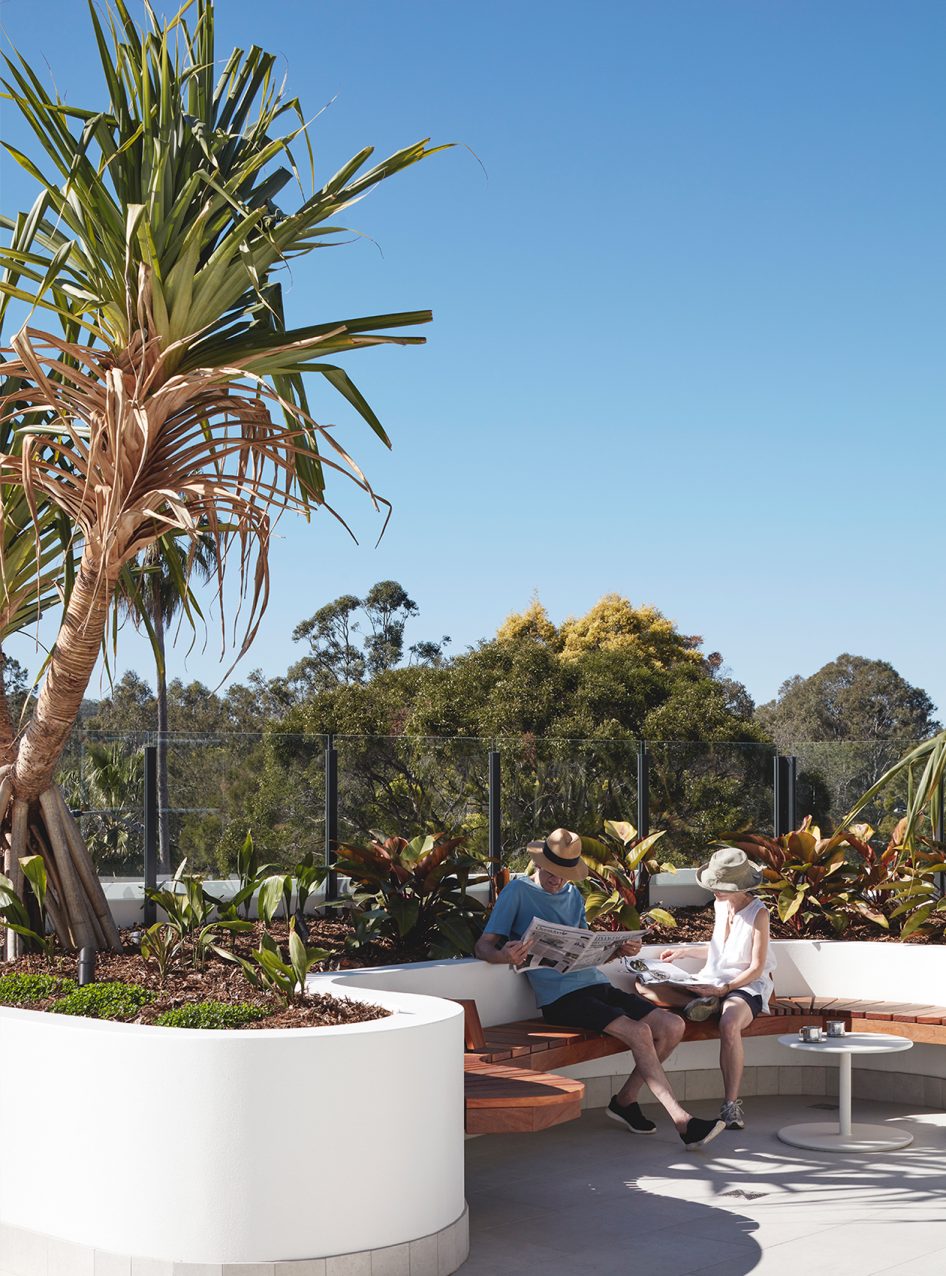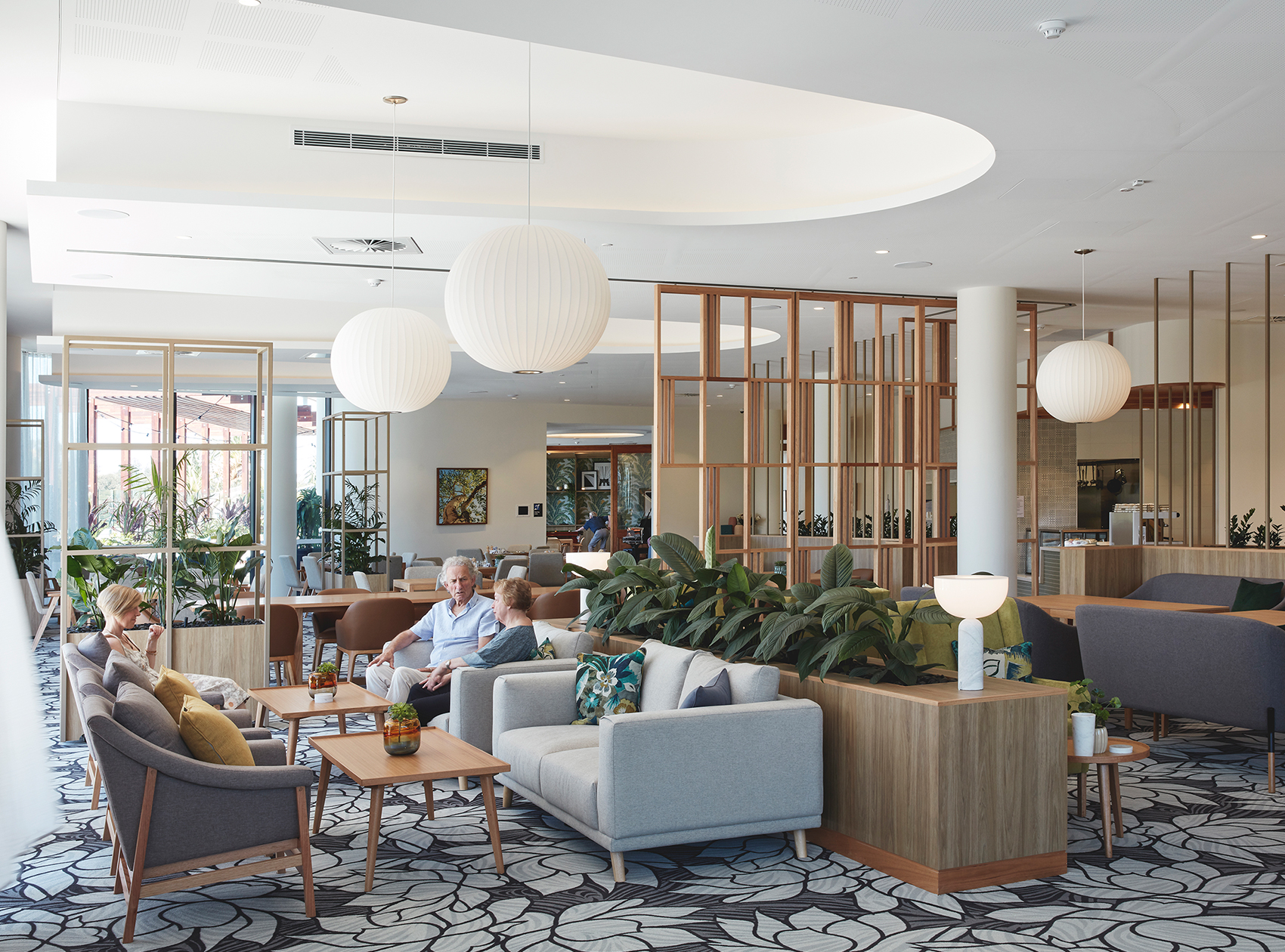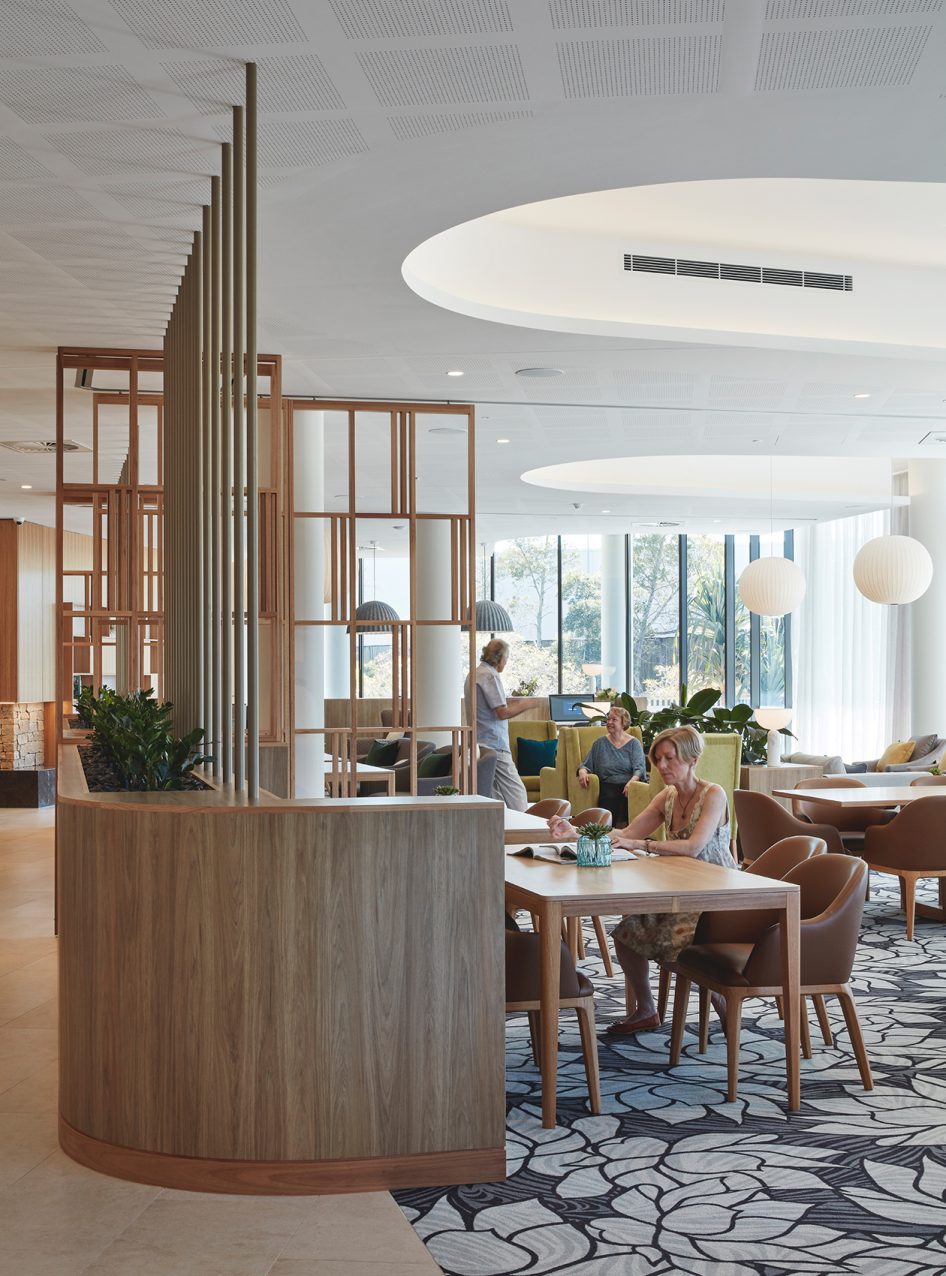 With a nine-metre fall across the site, ease of movement informed our master plan – alongside increased density, facility and green space.
We established two pedestrian spines. The Arbor traverses the site north-south, providing on-grade access to the residences and lifestyle centre, while the east-west link connects Bulimba Creek to Carindale Street.
Taller form has translated to a smaller footprint; empowering more elders to age in place with access to green space.
The redevelopment is part of a larger project to integrate retirement living and aged care with an existing site – and meet evolving cultural and market expectations. Thoughtful solutions were required to provide elders across ages with independent living units that address wellness, community and links to landscape.
Premium views to the east, north and south were leveraged in the layout of the two multi-storey residences. The master plan provides for fingers of buildings to Carindale Street rather than walls, limiting exposure to the west and allowing for green between.
Client

Aveo

Location

Carindale

Year

2019

Builder

Hutchinson Builders

Photography

Christopher Frederick Jones