How do you embed the values of a kindy in its spatial design? How does learning drive design? John Paul College (JPC) in Daisy Hill has been exploring the Reggio Emilia educational philosophy for some years and their recent kindergarten extensions bring these ideas to life. Designed by DR, a new building features two different learning spaces – The Burrow and The Nest – complemented with diverse external play areas focused around a piazza or green heart. All spaces rethink the local educational experience by embracing Reggio Emilia design principles.
The new building has two wings that skirt the green heart, which is often used to gather the whole kindy community spanning five classes. Children based in the new building can easily transition from their indoor learning spaces to the generous shaded verandah areas, and then into the piazza and surrounding outdoor play areas. Outdoor areas are rich with potential for exploration and discovery, with native and edible plantings including bush tucker.
Both The Burrow and The Nest feature atelier spaces. Accessible by a small set of stairs, a sunken atelier in The Burrow is permanently dedicated to artistic exploration. Timber slats and the split level divide the atelier from the main room offering acoustic benefits and a sense of enclosure, while still allowing visual connection to the broader environment.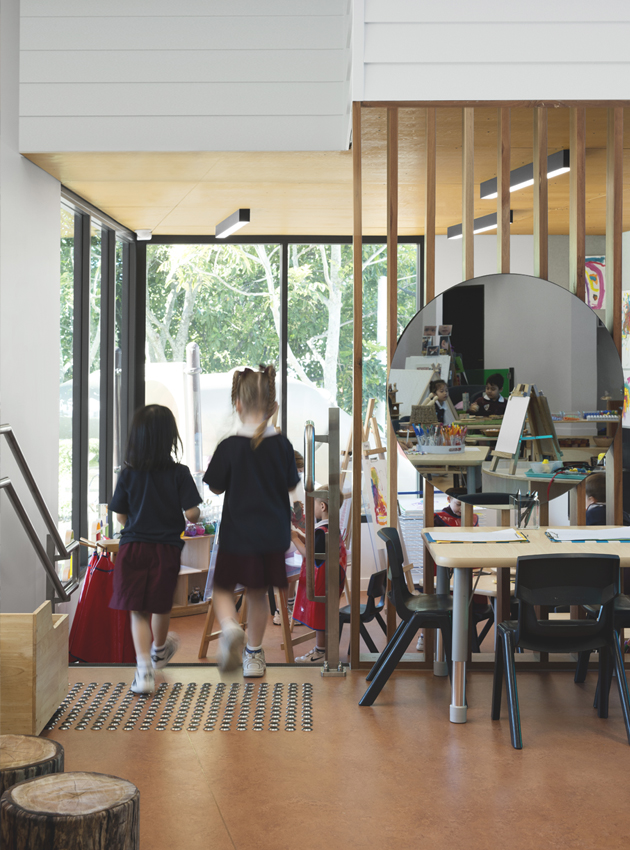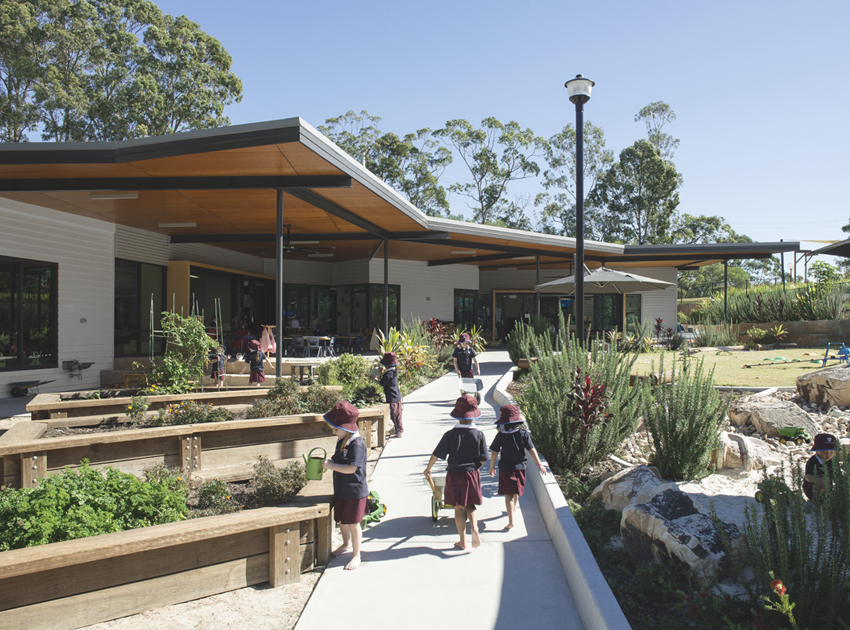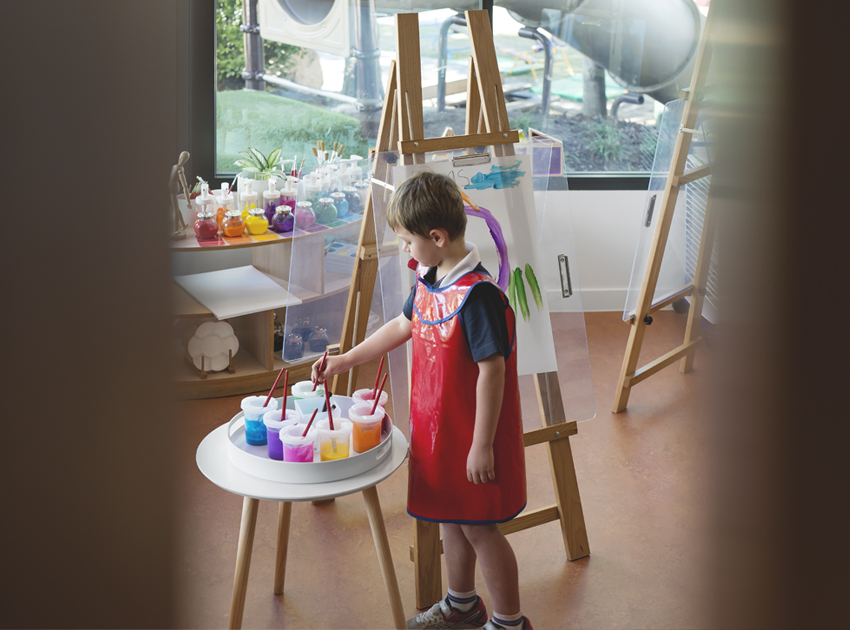 In The Nest, a gabled "home-like" structure punctuates the flow of the single-level space. Set up for painting and creative exploration, the space offers focused, artistic respite from the room's other varied activities. The window allows visual connection and opportunities for imaginative play.
'With the ateliers, we have made a dedicated place for the children to be creative and expressive, and we're finding that their engagement in those spaces is more intense…'
– Mrs Leanne Zammit, Head of Early Education, John Paul College.
As well as the ateliers, both rooms feature large sliding windows that open to the verandah, enabling abundant natural light and a strong feeling of connection to the outdoors. Thoughtful materiality adds warmth, colour and texture to purposefully engage the senses.
Key principles of the Reggio Emilia philosophy support that: children are capable, resilient individuals that should be empowered and able to pursue their own interests, observed and guided by their educators rather than directed; and, environments act as a "third teacher" – they should be open and free-flowing, where the outdoors is as important as indoors, and the presence of atelier spaces is key.
Sources: https://reggioaustralia.org.au https://www.reggiochildren.it
John Paul College Kindergarten won joint Overall Winner at the 2020 Learning Environments Australasia (LEA) Awards for Excellence in Educational Design.
Client

John Paul College

Year

2018

Photography

Mindi Cooke