The new learning centre, is the most productive, fit-for-purpose, learning environment in our school.
– Geoff Mill, Principal
Sunnybank Hills State School embraced the opportunity to renew its campus, replacing a collection of ageing, demountable spaces and adding the first two-storey New Learning Centre (NLC). Its location was determined through a master planning process to improve the connection across much of the campus.
As one of the largest primary schools in Queensland, the NLC provides a significant number of contemporary teaching spaces while responding to the scale of the existing buildings and meeting the needs of the youngest children. As the newest building on the site the NLC sets a standard for future growth.
The building connects the existing school to the performing arts centre and to the oval. Working with the existing pedestrian network, clear and legible connections are created through the NLC. A level change of approximately 1.5m is also absorbed. In keeping with the original school the dual-loaded building is primarily oriented to the north and east.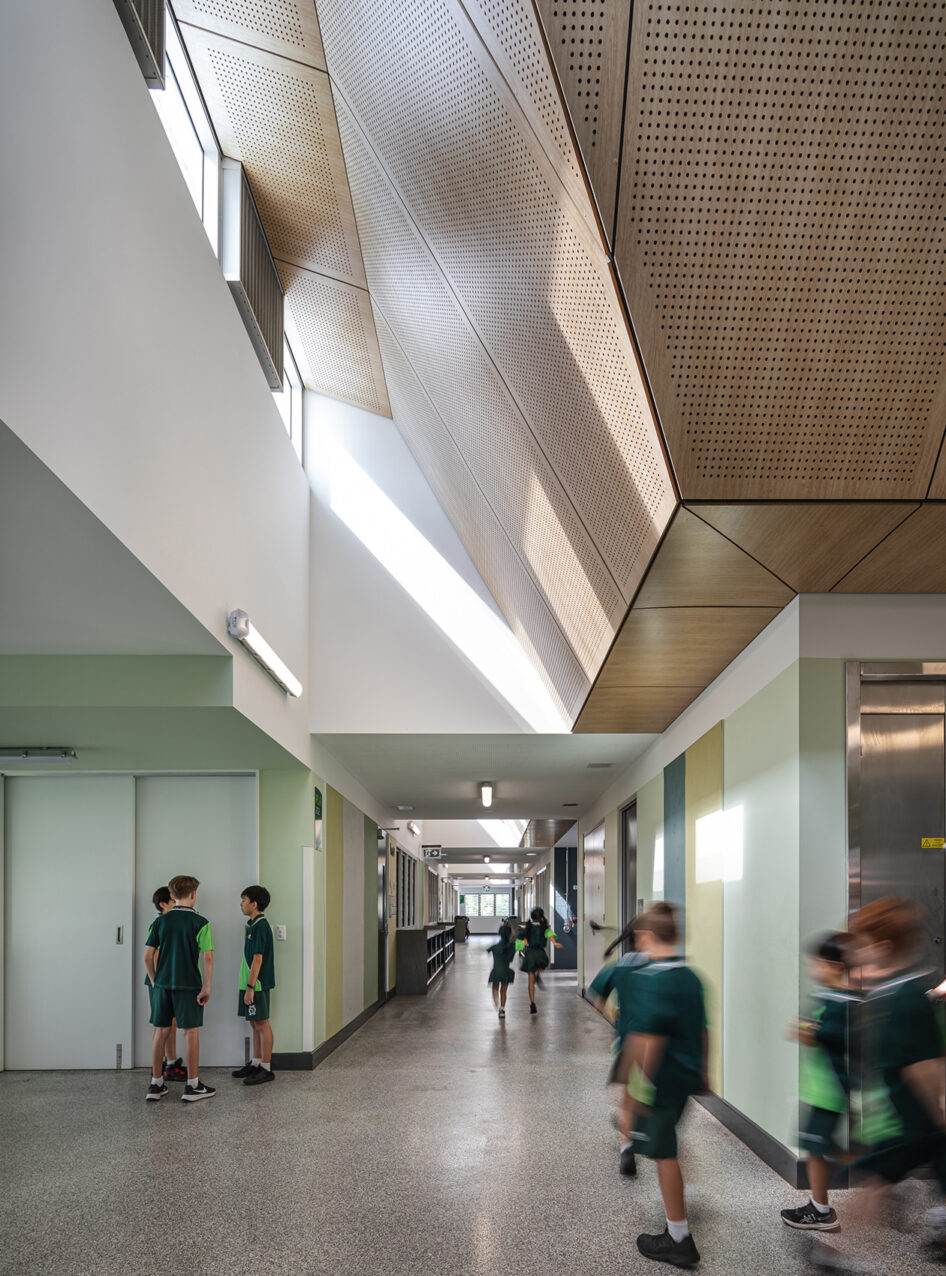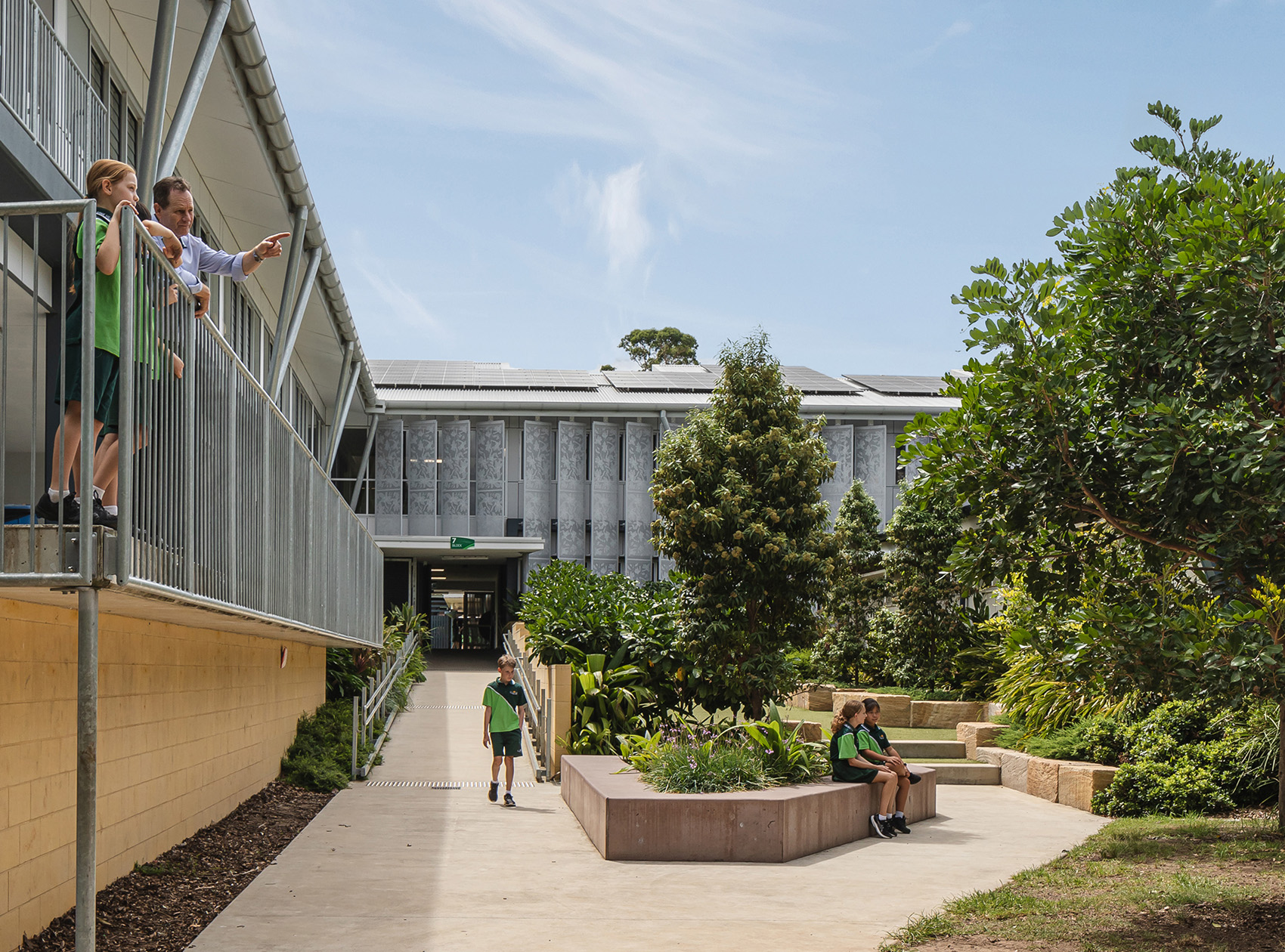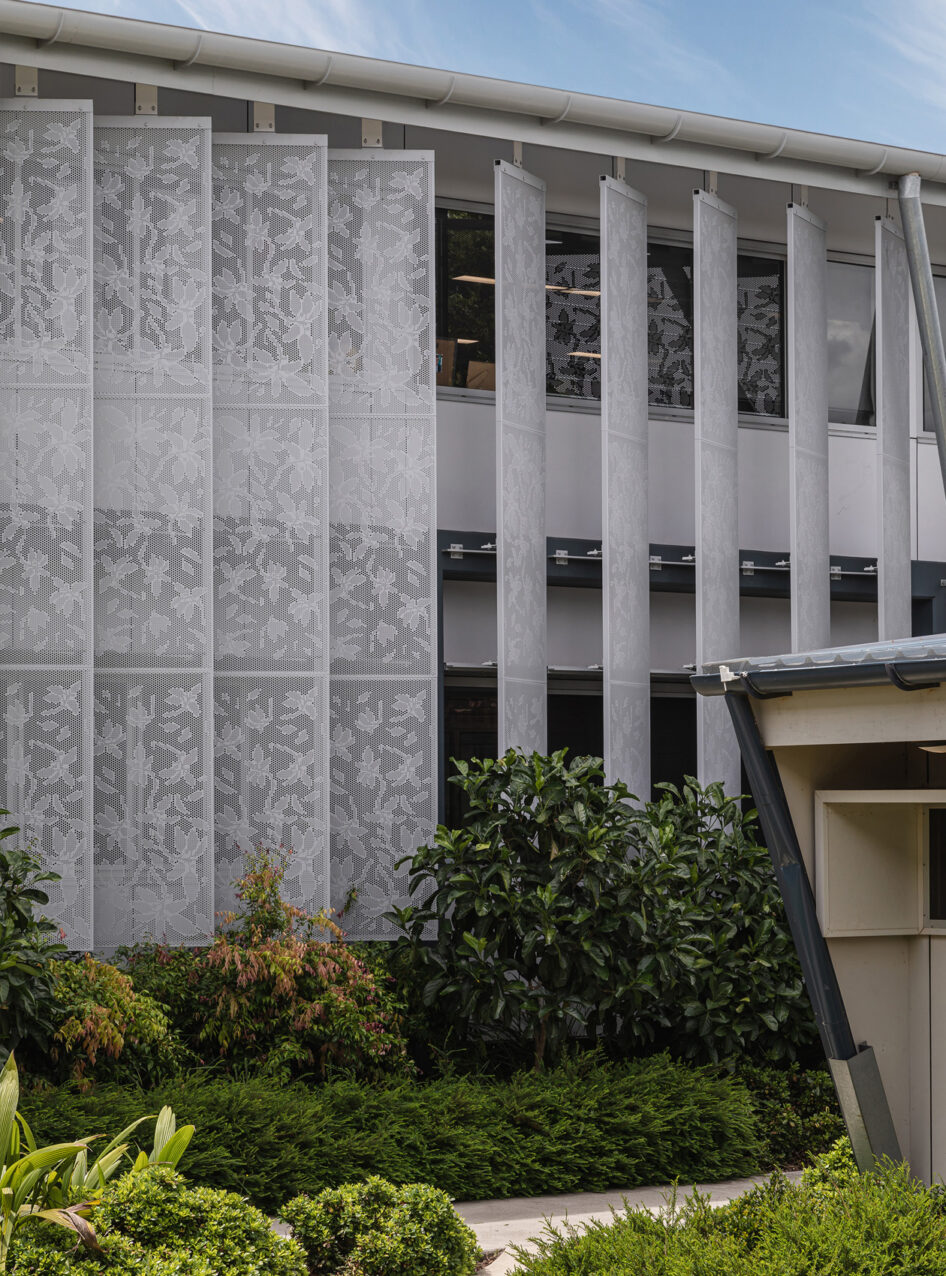 The Junior Undercover area provides a covered outdoor space for students to gather and offers prospect over playing fields and established trees.
The NLC features 19 General Learning Areas and 5 Outdoor Learning Areas with staff and student amenities. The scale of the building is significantly larger than any other teaching building on the site but the classrooms are clustered into groups of four for shared learning.
The wide corridors encourage incidental interaction and areas for display creating an active and vibrant space. Generous openings at the end of the corridors connect the surrounding landscape and buildings. A clerestory roof invites abundant natural light into the corridor space and enhances natural ventilation. Outdoor learning areas are strategically positioned at the ends and intersection of the circulation spines, improving legibility and amenity of the large floorplan. Their location and size enables healthy passive ventilation and also offers an opportunity to articulate the spaces on the external façade.
Engagement with the landscape architects was essential on this project with the school's desire to ensure the new outdoor areas had a calming influence for the students and provided connection to lush landscape.
School budgets are modest, with value for money a consideration of any capital works program. The plan is compact, the materials robust and ongoing operational costs have been considered throughout.
The building is well orientated to provide good natural light and ventilation. While A/C is provided, all teaching spaces can be naturally ventilated. Consideration was given to providing sunscreening to remove direct sun as well as glare.
The school wanted to reflect colour, warmth and connection in the building. With a large student cohort from non-English speaking backgrounds, lots of small group work spaces needed to be visible and accessible to and from classrooms and the corridors.
Client

Department of Education

Location

Sunnybank Hills

Year

2021

Builder

Wiley

Photographer

Cam Murchison